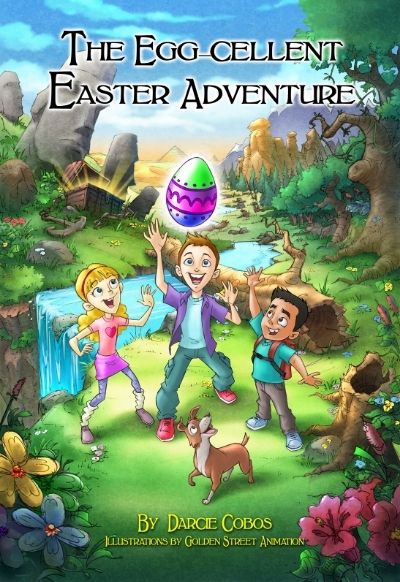 We feel it is important to teach children that there is considerably more to Easter than just chocolate bunnies and cute little fluffy chicks. What better way to help children see the Light of Jesus then through these biblically based glow in the dark Easter Eggs?! When we were given the opportunity to review
Egglo Entertainments
Glow in the Dark Easter Egg Hunt Products
we were very excited!
The Egglo Glow in the Dark Easter Egg Hunt Products includes:
Glow in the Dark Egglo Eggs
The Egg-cellent Easter Adventure book
Egglo Treasures Scripture Scrolls
Egglo Bible Verse Stickers
Egglo Easter Egg Stickers
The Egg-cellent Easter Adventure Character Stickers
The Egglo Glow in the Dark Egg Hunt Event Curriculum
Our children dived right into the package and had an amazing time discovering the treasures we had received. I think the biggest hit was the tiny little scrolls. The children had a lot of fun unrolling them and reading the biblical messages inside. They would read their message out loud and then ask their siblings which message they had received. It was amazing to see them so excited about reading messages about Jesus' love.
Our 5 yr old twins were not to be left out of the action! They were in charge of assembling all of the eggs and took great pleasure in their tasks. They made sure to add a scroll and bible sticker into each egg.
Our 3 yr old son has a fine motor delay and I worried that assembling the eggs would be a challenge for him. Apparently when you are very interested in what you are doing you are more willing to work at the task. He was able to assemble his own egg and loved getting to explore all of the provided materials.
Little bit was very interested in what was going on at the table. She jumped right in and began attempting to assemble her own eggs. With a little help from big sister she managed to make an egg all her own.
The big highlight was the 40 page fully illustrated adventure book! Through the story we follow 3 children and their dog as they travel to exciting locations. Where will the eggs take them next? Each egg reveals a clue to the next location and a Bible verse needed for the journey.



The last item in the package we received was the 60 page downloadable Glow in the Dark Egg Hunt Curriculum. This download has massive amounts of information. Included in this set are the step by step guide containing how to instructions, activity ideas, visual aids, decorations, snack ideas, coloring pages, Bible verses and other cut outs to include in the eggs, and MORE!
Our family LOVED this product from
Egglo Entertainmen
t. We all had an amazing time playing with the eggs, reading the book, and coloring the provided sheets! We would strongly recommend this product to any family who would like to add more of Jesus' light to their Easter celebration.
Would you like to know what the other Schoolhouse Review Crew members think of this product? You can
click here
or on the banner below to find out!