We were extremely blessed to be asked to review
Visual Learning Systems online Science curriculum!
If you have been reading my blog for a while you know I have been putting together my own Science curriculum this year. When we were offered a chance to review this online Science curriculum I was more than excited to give it a try!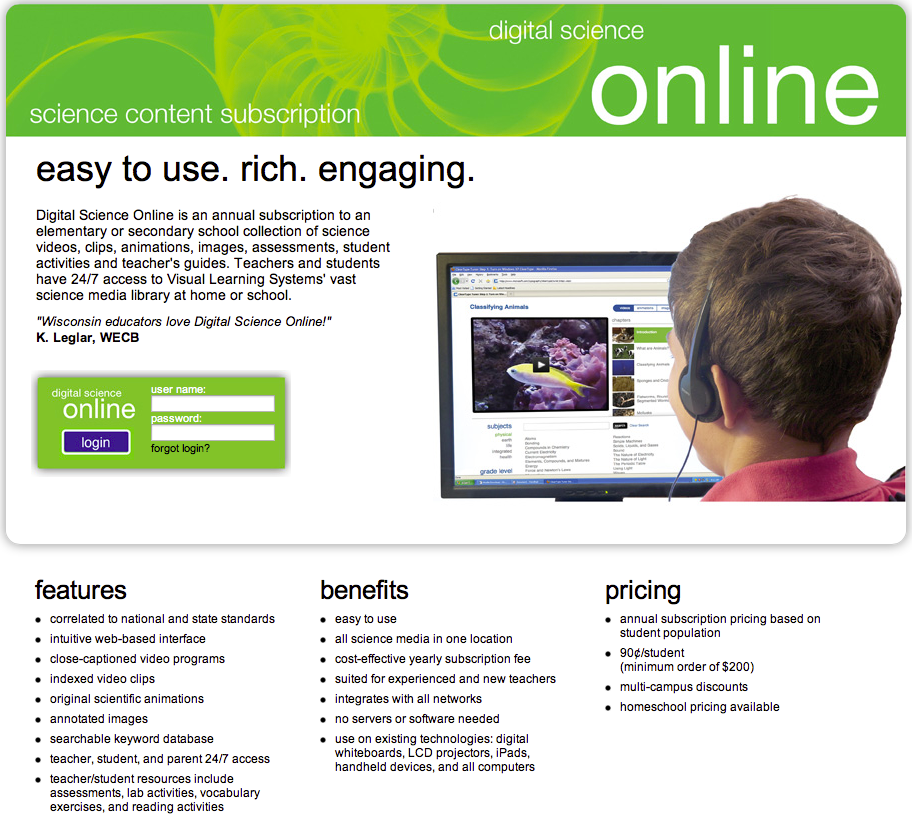 When we signed up to review the
Visual Learning Systems
program we were given access to their entire online Digital Science program!
Digital Science Online: Elementary Edition (Grades K-5)
Digital Science Online: Secondary Edition (Grades 6-12)
This is an internet based program that we operated through our windows based laptop without any difficulties.
We were scheduled to study Physics during the time period of the review so I was very excited to see what the program had to offer. I was not disappointed. When we logged into our account we found that each grade level was broken down into various choices for subjects. For the Elementary level this included Physical, Earth, and life subjects. Once you chose a subject area you were shown a plethora of options for lessons.
We studied:
Exploring Matter and it's Properties
Exploring the Building Blocks of Matter
Changing Phases of Matter
Exploring Energy
Forces in Fluids
Things in Motion
Once we clicked on the lesson we wanted to study we were taken to the video teaching the topic with chapter options available to the right. This made it very easy for me to decide if this particular video fit well with what I intended for the children to learn that day as well as to review a section the children seemed to be having problems with.
As you can see there are four tabs available within the lesson. The teaching video (above), animations (Short repeating videos on topic), images (Still photos with notes included), and Teachers Guides. Within the Teachers Guide there are several very helpful worksheets for each lesson. These include a Pre-Test, Post-Test, Video Review, Vocabulary, Writing Activity, and sheets detailing specific concepts covered in the video.
We found this curriculum to cover a wide range of topics and to be extremely easy to use. Our 8yr old daughter is dyslexic so a video based option works very well in our family. The videos were very well put together and offered a great deal of variety in terms of the videos provided. Each chapter within the video used different examples and video materials to show the concept the student was learning. This helped keep our children interested in the material being covered.
I loved that I simply had to set up the computer, start the video, and walk away. The video did all of the "work" leaving me free to catch up on things that needed my attention. I printed off the worksheets for our girls at the beginning of the week kept them in their binders. They were very easy to pull out and complete as the week progressed. The children seemed to really enjoy the videos and retained quite a bit of the material as we progressed through the lessons.
We are looking forward to continuing to use this online Science curriculum from
Visual Learning Systems
in our future studies!
Want to know what the other Schoolhouse Review Crew members had to say about this curriculum? You can
click here
or on the banner below to find out!