I am very excited to announce that our family has been chosen to participate in the Schoolhouse Review Crew for 2015! What does this mean? Our family has agreed to test out various curriculum and educational items throughout 2015 and then review them for you! We couldn't be more excited about this opportunity!
We have begun our journey with The Crew and have been gifted a one year membership to Schoolhouseteachers.com! Schoolhouse teachers contains online classes with downloadable and printable options. We were very excited to delve into the site, explore the vast array of classes offered, and begin our review!
Ready to get started?!
We started by looking through the Pre-k/Elementary and Middle/High school tabs. Within the tabs there are three sections broken down; Full Year options, Full Semester options, and Supplemental Curriculum and Resources for Parents.
Pre-k/Elementary ages
16 Full year classes
11 full semester classes
Middle/High School ages
28 full year classes
31 full semester classes
That is a lot of classes! I was pleasantly surprised by the wide range of classes offered. They cover everything from Trigonometry to Art. My favorite options include Literature, Foreign languages, Guitar lessons, Animal Science, Architecture, and Tinkers Club. There really is a little bit of everything available for all age ranges.
We are not done there however. After the age range tabs we move on to Family/For Parents tab. Oh my! There are some really cool options here including Nature/Outdoors, ASL Adventures, Whole Food Cooking, Homesteading, Family Fitness, and Monthly Reading Lists. My favorite section in this tab would have to be the Special Needs class. There are 19 lessons for parents of special needs children covering writing goals and choosing curriculum, modifying and adapting instruction, how the brain processes instruction, and more! Being a parent of special needs children is already challenging. Adding in homeschooling and adjusting curriculum can be overwhelming. It is so refreshing to see a teaching site cover these topics so well!
One of my favorite sections is still to come. The Dailies tab! I fell in love with this section! Included are even more classes intended to be completed every school day. We are talking Spelling, ABC with ME, Daily Math, Daily Puzzles, Everyday Explorers, Everyday Copywork, etc. Love these!
So what exactly are we using with our family? Lots!
Literature kits: These are amazing! The teacher takes a unit study approach to literature which I love. We chose to start at week 1 of The Lion, The Witch, and The Wardrobe literature kit. First up was reading the first three chapters of the book. This took our girls 2 days to complete. Our first day using the kit (Tuesday) began with a summary of the book and a section of facts about the author, including pictures of the author and a timeline of his life. We then moved on to our language arts section where we delved into a bit of Greek and Roman mythology in an effort to get a better understanding of the animals included in the story.
On Wednesday we began the History section of the kit and researched "Operation Pied Piper": The evacuation of Children During WWII. There were a variety of links and information provided that kept us quite busy researching:
After spending so long researching for history we chose to finish day three by completing the section discussing afternoon tea. Unfortunately we were too busy to complete the included recipe option for Sugar Topped Cake. I would like to go back and try it on an afternoon when we have some free time for a real afternoon tea party!
On Thursday we learned about rationing during the war and the children had a great time playing the
activities provided in the kit
and learning what rationing was and it's role throughout the war. We then moved on to the science section of the kit. We are very much a science centered family so I was really interested to see what they would cover in this section. They chose to discuss winter and snow which I find appropriate not only for the book but also for December in New Jersey. Some of the questions and links include:
The last activity for the week was to make paper snowflakes. I think this was their favorite activity of the week. We found printer paper to be a bit too small to work with so we broke out the craft paper. You can see how massive the snowflakes turned out. They had some really cool patterns available within the kit and the girls really got into making the snowflakes.
I love going deeper into the books my children are reading and find this style of learning to be a more centered approach. You are not hopping from one subject and time period to another constantly throughout the day. Overall I am extremely excited about this kit and our daughters are in love with the books chosen for the units.
Art Techniques: Our oldest daughter is quite the artist and was jumping up and down squealing when she saw this class listed. She is very excited to be learning new techniques and is coming up with some lovely artwork.
Schoolhouse Preschool: Our 4yr old twins are in love with doing school work these days. We are loving the preschool curriculum offered on schoolhouse teachers. They have a Charlotte Mason preschool class, sensory activities, ABC with ME, and animated story books. All of which have been a HUGE hit with our girls. So much so that their older sister felt the need to get in on the action. We used our touch screen laptop for the animated books and they caught on quickly how to navigate the stories. The songs are catchy and our girls have been singing them since "reading" the books.
Spelling: I just decided to toss our current spelling curriculum because it was not working well for our oldest daughter. I was very excited to see that schoolhouse teachers has a pre-k through high school spelling curriculum all set up and ready to go. I also love that the lists are fairly short for the elementary aged children. All of the lists that I have seen are centered around a short reading selection.
There is a separate printable available for each day of the week, and e

ach day has a different activity associated with the spelling words.
Day one our girls completed a Charlotte Mason inspired copy work activity using the short reading selection

Day two was an editing activity centered around finding the misspelled spelling words

Day three was a multiple choice activity using similes

Day four was a crossword puzzle

Day five centered around a spelling game with an included video. The girls are enjoying the activities and appreciate not having to endlessly write lists of words over and over again.
Since this is an online curriculum we would like to note that we used our lenovo touch screen laptop and opened all of the attachments in Firefox. We had no problems using any of the features of the site or the links provided within the classes.
So in all we have 4 children using some aspect of the site! The best part? The membership is per family not per student! So the monthly fee of $12.95 is a flat fee. For our 4 children using schoolhouse teachers that is only $3.24 per child per month! Anyone who has ever priced out any of the curriculum options above knows that you could drop some serious money on just one of them and here you are getting SO many different classes and lessons!
I would (and have) recommended Schoolhouse teachers to all of my homeschooling friends and family. It really is a wonderful blessing and a great addition to our homeschool family.
Know how it gets even better? Schoolhouseteachers.com is having a huge sale from now (December 16, 2014) through Christmas Day at 11:59pm ET! They are offering 40% off the monthly membership ($7.77/month) or 50% off the Yearly Membership ($64.26/year). Homeschool families who join at this rate will keep the rate forever by maintaining a continuous membership!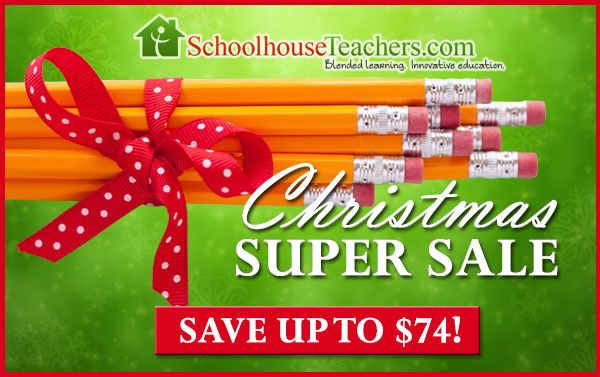 Want to read some more reviews about Schoolhouse Teachers before you make a decision? Check out what the other Schoolhouse Review Crew members have to share about how their families are using the schoolhouse teachers website!