Our family was chosen to review
Here to Help Learning's
homeschool writing program! Want to know what we thought of it? I can't wait to tell you all about it!

Our family was given a one year subscription to the
Here to Help Learning
website. I received the email with our activation code very quickly and was excited to get started with their writing program. I had no problem accessing the site, or viewing the videos, on our windows based laptop. I found the site easy to navigate and very user friendly.
Our oldest daughter is 11 years old and rocking an autism diagnosis. We have had some trouble finding a writing curriculum that works for her. Most tend to be too easy or assume a skill level she doesn't have. We were floundering in the breach trying to find something that started "at the beginning" but that wasn't addressed to 6 year olds. We were very pleasantly surprised with this curriculum!
Our online subscription allowed us unlimited access to all 6 available "Flights":

Flight 1 Paragraph Writing
Flight 2 Paragraph Writing
Flight 3 Paragraph Writing
Flight 1 Essay Writing
Flight 2 Essay Writing
Flight 3 Essay Writing
We chose to start with Flight 1. While our daughter is capable of writing two or three page papers she hyperventilates when asked to break her paper down into paragraphs. We are not able to add in a new concept like using paragraphs on the fly. This is something we need to stop and address step by step and practice repeatedly before she calms down and understands that it is something she can easily use.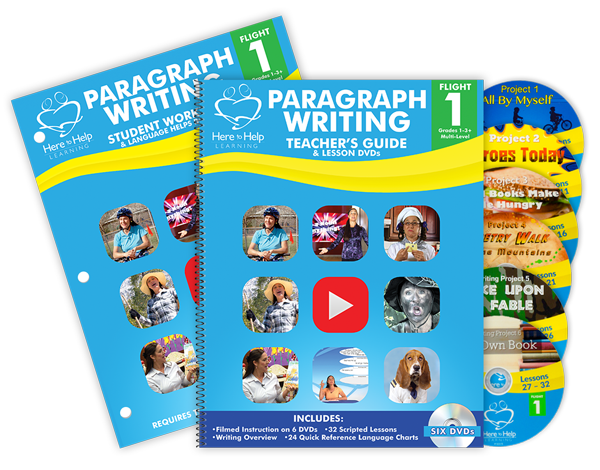 We first had to decide how many lessons to do per week and then set up her writing binder. We chose to do three lessons per week. I found this to be the "sweet spot" for our family. At the beginning of the week I print the writing worksheets for the week. I add the worksheets to her writing binder and I am done with all prep work.
I love that there is a "print worksheets" button on each lesson. No going through and having to print each worksheet individually. I know it sounds like a little thing but when you are printing multiple things at the beginning of the week and trying to get everything settled it is wonderful to have a one stop shop for printing everything you need for a particular subject.
I was also thrilled to learn that the writing instruction is done via video! Each day that she is assigned a writing lesson she sits down at the computer and watches to the video instruction. She pauses the video on her own to complete the worksheets and writing assignments. I then review her work and read through her homework assignments with her. After I am sure she understands the homework I am completely hands off until the next day.
As a middle school student I find it vastly important that she be able to properly manage her time and assignments. With high school fast approaching we feel this is the time in her education when she needs to begin taking ownership over her assigments. We love the independence of this curriculum and homework assignments. They are short enough to not be overly daunting but thorough enough to cover the material that needs to be addressed.
If a fully independent curriculum isn't your cup of tea at this point don't worry! When printing out the worksheets for the lessons you also get a scripted lesson plan as well! You can go through each assignment with your child and work hands on with them for each step.
We are happily working through flight one! I can't wait to see how the curriculum progresses through to essay writing!
Be sure to check out
Here to Help Learning's
FREE
Quick Reference Language Charts as well! I love having a reference guide all put together and ready to go in her binder!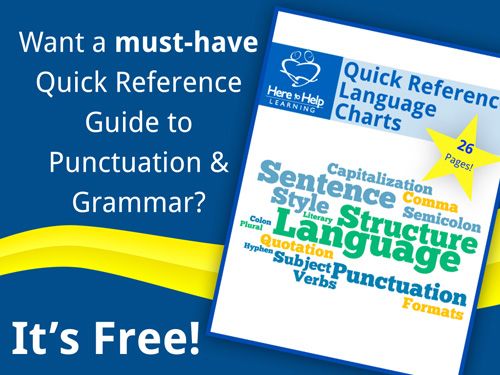 Want to know what the other Schoolhouse Review Crew members thought of this curriculum? Click
HERE
or on the banner below to find out!