As you can probably tell from reading our blog we are a very artistic family. Our children adore doing art projects and I attempt to work some form of art into every subject we study. There is something about working on art projects that helps our children remember facts concerning their studies. We have used
ARTistic Pursuits Inc.
books within our homeschool in the past and loved the curriculum. When we were offered the option of reviewing ARTistic Pursuits Inc.
Sculpting Technique Model
curriculum I couldn't have been more thrilled!
Our oldest daughter has been interested in sculpting for some time but we were unable to take her to the sculpting classes offered at the art center. Loading up 6 children for an hour drive round trip to the art center so that one child could take a thirty minute class just wasn't going to work for our family at this time. It was just too much to ask of the younger children at this point in our lives. I had been feeling a bit guilty about not being able to fulfill her desire to learn sculpting. It was a subject I had zero knowledge about. I had taken some pottery classes as a child but did not feel in anyway capable of teaching sculpting to our children.
When we were offered the
Sculpture Technique Model
curriculum it felt like a gift from heaven above! We were sent the spiral bound instruction manual in the mail. The book arrived very quickly and was met with many squeals from our oldest daughter!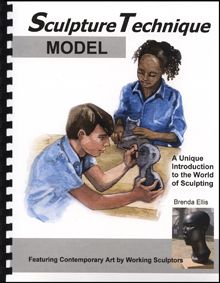 The book contains three separate units based on the medium used for the sculptures. The units consist of projects based on putty, clay, and fiber mediums. At the beginning of each unit the author covers the elements of sculpture and how we view and understand sculpting. Specifically the mass, scale, and surface of the sculpture. In these sections the child learns the important visual aspects of three dimensional works. The child is able to begin to understand the choices and options available to artists as they develop three dimensional works.
There are 12 different specific lessons found within the book. Each lesson teaches a new technique and builds on the last lesson. The projects begin with a short introduction to the inspirational project and description of the methods used to produce the project. The curriculum then progresses to the project execution.
In the project execution section the author clearly lists the items needed, any important information you need to consider, and step by step instructions as to how to make the inspirational project.
Our daughter chose to complete her lessons on her own in the late evenings after her siblings had gone to bed. I can not really say I blame her. I would not want to complete my art work with little people hanging all over me either. While we used this curriculum with our 12 year old daughter it could easily be used with younger children as well.
I loved that this curriculum taught our daughter a great deal about the mediums she was using, the different techniques associated with three dimensional works, how artists approach their projects, and the history behind the techniques. This was not a simple project based art book but an in depth education on a variety of three dimensional art work. I could not be happier with the this product! I loved that our 12 year old daughter was able to complete these projects on her own when the creative mood struck her. The mediums were easy to find, thank you amazon, and easy to work with. I honestly could not be happier! Our daughter was relieved to find out that she gets to keep this book and complete the rest of the included products.
Want to know what the other Schoolhouse Review Crew members thought of the
ARTistic Pursuits Inc.
curriculum they received? Simply click
HERE
or on the banner below to find out!