You remember back in the day when we were learning our multiplication tables? Remember sitting around the table being drilled with flash cards? Guess what? Things are changing for the better! Our family was chosen to review
The Trigger Memory Co
. multiplication product:
Times Tales
!
Our family was given a link to the digital content found within the Times Tales bundle. We were able to download the content onto our windows based laptop and had no issues accessing the files or loading the content. Wanna see what we were given? Check it out!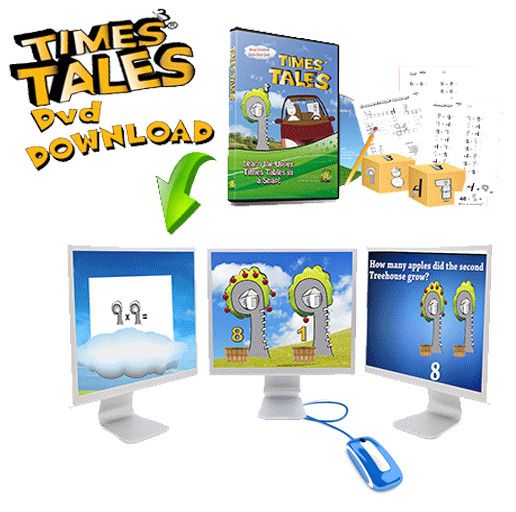 Our digital download included the lessons covering the upper multiplication tables, the worksheets and all the accompanying materials!
So what exactly is Times Tales? It is a very cute memory based program to help your child learn the upper multiplication tables. We chose to use this program with our 9 yr old daughter. She is currently learning her multiplication tables and could definitely need some help remembering the higher tables.
I don't know about you but I hated learning my multiplication tables as a child. It was boring and I could just never manage to remember the 6s, 7s, and 8s. I still have trouble with them to this day! You know the table I can remember without even thinking about it? My 9s because my grandmother taught me a cool trick for those.
That is the concept behind this program. Learning a trick for each and every upper multiplication problem. The program assigns a character to each number and then a story to go along with each problem. They then take the child through each problem once to learn the story behind the numbers.
For example using the problem 3x4. The 3 is a butterfly and the 4 is a chair. For the story there are 3 butterflies that land on 4 chairs. How many butterflies are there? 12 of course.
After going through the story once with the child the program then goes back and explains how the story works for solving a multiplication problem. The child then completes worksheets with the same butterfly 3 and chair 4 to cement the story into their memory. From that point on when they see 3x4 they automatically think, "butterfly and chair....12".
I think it is cute and non-threatening way to help the children learn their multiplication facts. I am not a "drill and kill" type parent. I hate sitting there using flash cards just as much as the kids do. If watching a video a few times per week and completing some worksheets is going to help cement her multiplication facts I am all for it!