Our six year old twins were thrilled to hear they had a new product to review! We were very excited to dig into the
Essential Skills Advantage
and check out their
Complete Home Learning Suite
!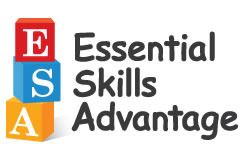 Our family was given an online subscription to the
Essential Skills Advantage
website in order to use their
Complete Home Learning Suite
program for our two six year old twins. We received the activation link and were easily able to set up accounts for each of our girls within the umbrella of the initial sign in procedure. In other words I use my information to sign into the program and the girls are then able to find their name on the home page and start their program on their own without additional input or passwords from me. I found this to be a great time saver for our family. In a normal day I have a minimum of 4 children at the table all doing some form of school work. I am rotating between children answering questions, checking their work, and keeping them moving through their assignments. It is a great advantage to me to be able to sign into a program once and then have the children rotate through the use of the computer without my having to sit down and log one child out and another in repeatedly.
So what exactly is the ESA Complete Home Learning Suite? It is exactly what it sounds like! This is an online based complete school program designed to be used to help a child build those essential skills needed for their later school career.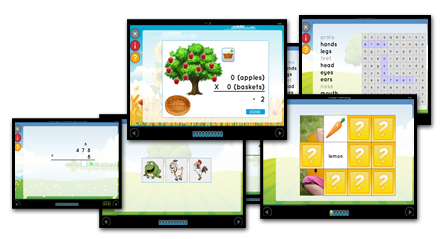 Within the ESA Complete Home Learning Suite there are six main subject areas.
Reading
- Grades K-6: This area covers beginning phonics and later reading comprehension work.
Language and Grammar
- Grades 3-6: This area contains lessons on writing fundamentals, grammar, vocabulary, and creative writing.
Spelling
- Grades 1-6: This section contains fun spelling games and spelling "stumpers"
Math
-Grades K-6: Are you looking for a complete math, operations, and concepts curriculum? This section of the website has you covered!
Science
- Grades K-3: I have to say as a science nerd I love this section. They cover Earth and space, physical, and life sciences.
Geography
- Grades 3-5: This section contains map and globe skills as well as World, American, and Canadian geography information.
As I mentioned our twins are six years old and are just beginning to "do school". On a daily basis they complete lessons in math, handwriting, reading, science, history, and extra phonics work. When looking though the ESA Complete Home Learning Suite I decided to start our girls on a 3 day a week routine. Each girl however obviously has different strengths and weaknesses so their routines and assignments within the program were different.
Emma is our oldest twin and a rock star when it comes to math. She is doing simple addition problems without issue and usually blows through her math assignments each day. She however has been having trouble memorizing the letter sounds and completing her reading assignments. She is getting there it just takes her a bit more effort to do so. I started her on the reading program within the online curriculum. After completing her normal reading work with me I set her up with the computer program to work through the kindergarten level phonics program. She found the curriculum to be fun and enjoyed "teaching" her twin how to work the program. It was a wonderful way to help concrete those phonics lessons we have been covering for the last few months.
Within the kindergarten reading section there are three units:
Readiness Skills
(Picture vocabulary, Visual skills, etc),
Sight words
(Word lists, colors and numbers, etc), and
Stories
.
Lacy is our younger twin and a rock star at reading. She is blowing though her reading curriculum and has an amazing memory when it comes to letter sounds and blends. She however is at a loss when it comes to her math lessons. She is getting there but like her sister she is just moving along at her own pace. I chose to start her on the kindergarten math section of the online curriculum. She really enjoyed playing what she called the "math games". In my opinion any time you can get a child to ENJOY doing math you are succeeding!
Within the kindergarten math section there are six units:
Numeration
(addition, subtraction, etc),
Patterning
(What comes next? What is missing? Etc),
Measurements
(Telling time, temperature, etc)
Geometry
(2D naming, 3D naming, etc),
Data Management
(Counting, sorting, etc),
Probability
(Chance).
So what did we think of
Essential Skills Advantage
and their
Complete Home Learning Suite
? Our girls really enjoyed using the programs within the curriculum. They begged to be able to do "computer school" each day after their formal lessons were finished. I however could see this curriculum being in depth enough to be a stand alone curriculum. The units were quite in depth and informative all on their own.
I will definitely be keeping this curriculum in my back pocket for next year when our son begins "doing school". He has a pronounced hand tremor that makes writing difficult. Being able to type his answers could be the answer to his problems.
Overall we loved this curriculum and can not wait to use it though the rest of the year! Want to know what the other Schoolhouse Review Crew members thought of
Essential Skills Advantage
and their
Complete Home Learning Suite
? You can click
HERE
or on the banner below to find out.