I am always excited to review audio adventures. They are always so lively and engage our imagination in a way books and television can never quite reach. This month we were chosen to review
The Brinkman Adventures: Season 3.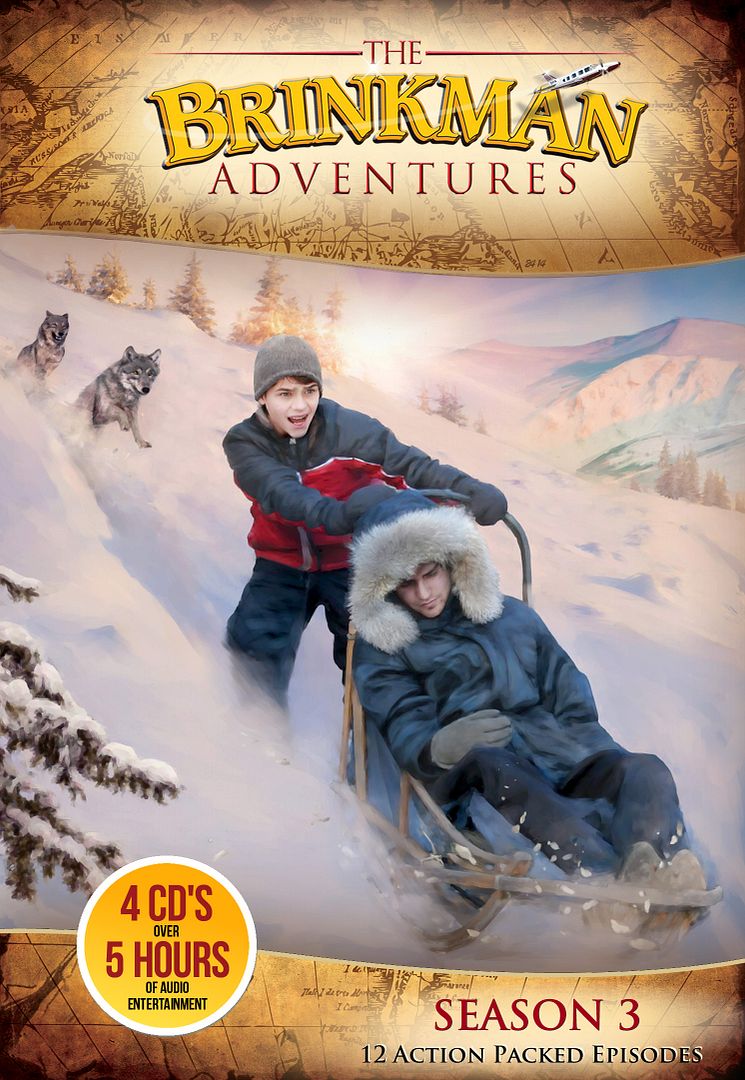 The Brinkman Adventures
follow a large Christian family as they travel around the world acting as modern day missionaries. They experience adventures and hair raising moments as they work to spread the word of God throughout the world. When I found out that the stories were based on a real life family I was intrigued. The adventures within these episodes are based on factual events with some dramatizations made throughout. There are stories from real missionaries woven throughout the episodes which interested our family a great deal. We have read quite a bit about missionaries from the past but have not covered that missionaries are still working and making sacrifices even to this very moment.
The
Brinkman Adventures
are available in two formats: 4 CDs or a MP3 download. Our family was chosen to receive the MP3 download. I preferred the Mp3 download as we tend to destroy CD's very quickly. Each season of the
Brinkman Adventures
consists of 12 exciting adventures for a total of 5 hours of faith based adventures.
The episodes include:
1. God's Mule
2. Mountain Mover
3. Silent Ambassador
4. Translating Trouble
5. Man-Up
6. Acorns & Oaks
7. A Saint's Story, Part 1
8. A Saint's Story, Part 2
9. Untouched
10. Busy Bees and a Bullhorn
11. Missionary Tourist, Part 1
12. Missionary Tourist, Part 2
Our children are pretty young: 11, 9, 5, 5, 4, and 2. Although the entire season was appropriate for all age ranges the stories were only really applicable to our oldest two children. The younger children quickly lost interest and went off to play. The older two girls were old enough to follow along with the story lines but tended to fidget and get distracted. Our oldest is autistic and our second oldest deals with ADHD. Sitting still and listening for long times, each episode is about 30min long, was a bit much to ask. To battle the fidgeting and restlessness I brought out our "art class" supplies. These are art supplies that are only allowed to be used while doing a specific art assignment. They were able to use the chalk pastels and paints to create fun projects while listing to the stories at the same time.
As a busy homeschooling mama I have to admit I love any time I can check off two school boxes with one activity! Art and Bible time completed at once!
God's Mule
Mountain Mover
The Silent Ambassador
Translating Trouble
Man-Up
Acorns & Oaks
A Saint's Story, Pt. 1
A Saint's Story, Pt. 2
Untouched
Busy Bees and a Bullhorn
Missionary Tourist, Pt. 1
Missionary Tourist Pt. 2
- See more at: http://schoolhousereviewcrew.com/brinkman-adventures-review-2/#sthash.DsNlxJPM.dpuf
God's Mule
Mountain Mover
The Silent Ambassador
Translating Trouble
Man-Up
Acorns & Oaks
A Saint's Story, Pt. 1
A Saint's Story, Pt. 2
Untouched
Busy Bees and a Bullhorn
Missionary Tourist, Pt. 1
Missionary Tourist Pt. 2
- See more at: http://schoolhousereviewcrew.com/brinkman-adventures-review-2/#sthash.DsNlxJPM.dpuf