If you have been following along with our Kindergarten Unit posts you know that we our twins are working their way through Kindergarten this summer. I am sure you can imagine how extremely excited we were to be chosen to review
Alpha Omega Publication's
Horizons
Kindergarten Math
!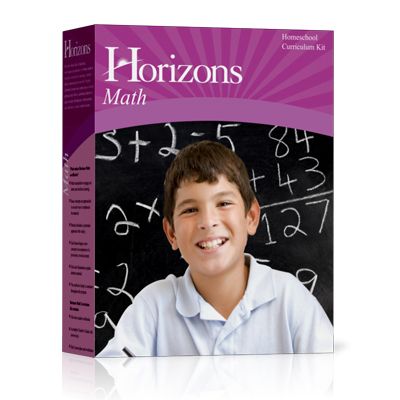 We received the complete homeschool curriculum kit for Horizon's Math. This included the teachers manual and two workbooks covering 180 lessons. Each lesson contains 2 pages (front and back) of colorful easy to understand math problems. The kindergarten curriculum begins easily enough with learning to count to 10, learning shapes and colors, and most importantly to follow directions!
Our children are very much in love with workbooks. The arrival of the math workbooks was SO exciting that one simply was not going to work. I had to order a second set for our second twin. Once we had two sets of workbooks we were ready to roll. We added 1 lesson from the workbooks to the end of each of our daily kindergarten unit lessons. The girls were practically giddy with excitement. They beg to do more than 1 lesson per "class".

They would easily sit for an hour happily doing math if I would let them. They love the math workbooks so much they actually beg to do math through out the day!
Having used Horizon's products before I knew that I would be receiving a superior product, I was however a bit worried as I have seen from previous experience that the items can be a bit advanced in later years. I worried that the kindergarten materials would be too advanced for our girls. I was very happy to see that the material starts from learning the number 1 up to more advanced material towards the end of the book.
Having used the second through fourth grade math materials I know that if we continue with the Horizon's Math Curriculum with our twins they will not only get a solid math foundation but be a bit advanced for their ages. The fact that the material is so comprehensive AND fun is a huge selling feature for our family. We will definitely be sticking with
Alpha Omega Publications
Horizons Kindergarten Math Curriculum
as well as Horizon's products in general! We love that it is a Christian Based company and that they include Biblical lessons within all of their products, even math!
You can
Click Here
or on the banner below to see reviews by other Schoolhouse Review Crew Members for the following products.